THE ROUTE
Port Lincoln (South Australia) to Geraldton (Western Australia)
February 8th through March 7th 2009
Cheers to all of you from Western Australia and the Indian Ocean coast. We have now reached the charming town of Geraldton situated on the coastline at the Indian Ocean about 400km north of the city of Perth. Since we have last checked in with all of you, we have done a fair bit of driving and are currently taking a well deserved brake from the road, the flies, the dust, and the wind, and have booked a small cabin at Sunset Beach Holiday Park right at the waterfront with all the luxuries of civilization (hot shower, fewer flies, electricity, phone access and internet). By the time we reached Geraldton we had done over 9000 km mileage since starting on this trip in Sydney, and we thought: "Bloody hell, we need a brake!" And we also needed a break from the zillion of flies, the invasion of ants into our rooftop tent, the relentless wind rattling the tent about, the cold nights along the Nullarbor Plain, and the monotony of our food on the road. Except for a couple of shorts stops, we had been travelling more or less non-stop since we left Port Lincoln in early February, and we traversed some extremely diverse landscapes before the reaching the Indian Ocean.

Just before entering the 1200km stretch of the Nullarbor Plain, we made a detour to the Yanerbie Sandhills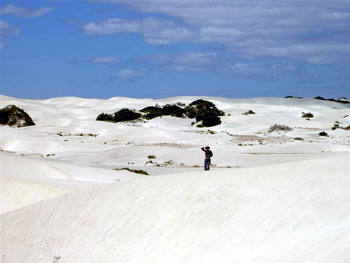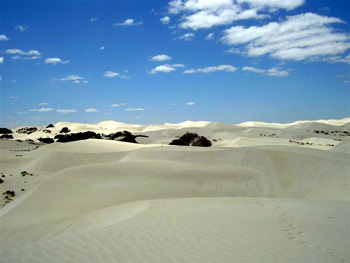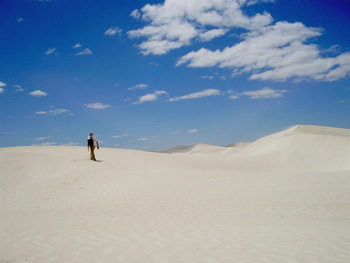 which are created by sand blown inland from the ocean beach. The dunes move approximately 11 meter per year inland in an unstoppable progress. They swallow up roads, tracks, and farmland - the sand being constantly whipped up by the unrelenting winds of the coastline of the Southern Ocean. Leaving the sand dunes behind we faced 1200km of boring straight road to cross the Nullarbor Plains, a stretch of land where the most interesting facets are the road signs.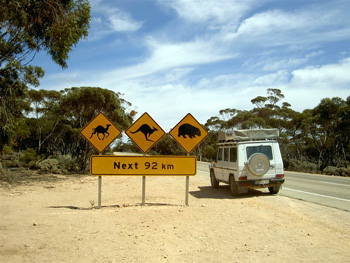 We have not seen any camels yet, but we did have a close encounter with a rather fat Wombat - an encounter which proved unfortunate for the animal but left our car unscathed. The Nullarbor Plains runs inland removed from the steep shoreline of the Bunda Cliffs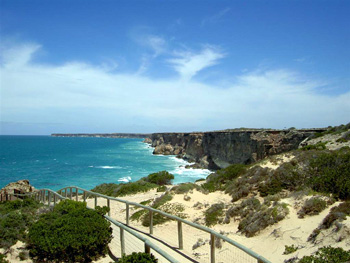 and has nothing to offer but wind, dust and a tiring straight line of bitumen. To break up the monotony we headed a few miles north along an old track and travelled for a couple of hundred kilometers along the original Old Eyre Highway, a dirt road which until recently served as the only traffic artery for settlers, supplies, and travellers between South Australia and Western Australia.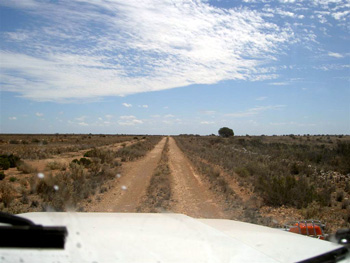 It was here that the wombat met his fate. Along the old track abandoned settlement and roadhouses tell stories of bygone times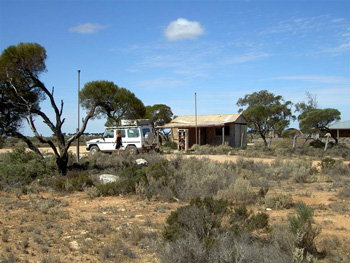 when sheep stations also served as gas stations for the motorised travellers and as road house offering some non-perishable supplies.
One element to keep track of along the Nullabor is the TIME; not only because it seems to go by so slowly while driving through the monotonous landscape, but because it is just about the only thing that changes every couple of hundred kilometers. We crossed 3 time zones while travelling along the Nullabor (South Australian time, Eucla time, Western Australian time), but Eucla time (which is about 1hour back from South Australian time exists nowhere else and is a time zone which lasts only 100km before you have to set your clock another 1 hour back to adjust to Western Australian time). We drove from morning till sunset and set up camp in the midst of nowhere between thorny spinifex bushes, Mulga scrubs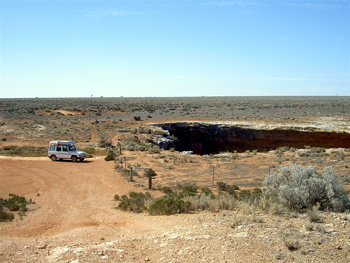 and deep caves which in the past supplied the old roadhouse with water (a well was located 45 meters down the cave.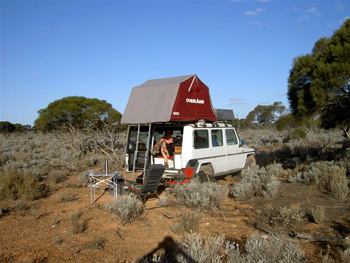 Water is also for us a precious element while travelling along the road and we top off our supply whenever possible, here from rainwater tanks along the Nullarbor road.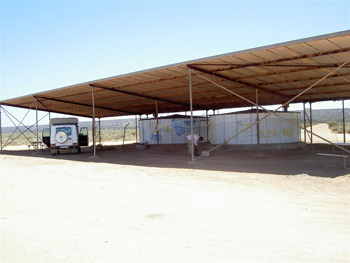 We left the bitumen road at Balladonia on the Western Australian side of the Nullarbor Plain and took a rough 4WD track straight south for 200km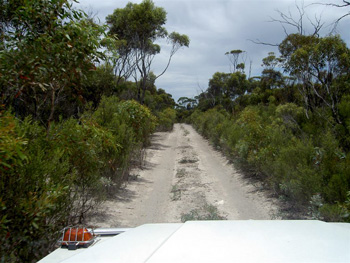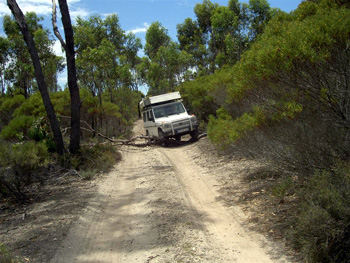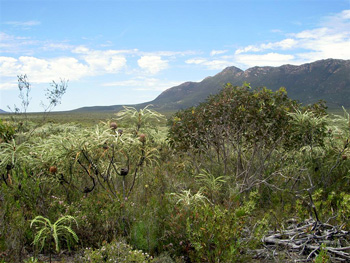 before reaching the beaches of Cape Arid on the southern ocean shores.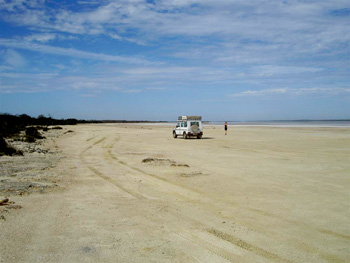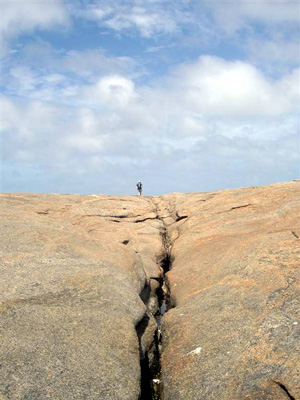 We set up a pleasant bush camp there and stayed until we ran out of water and food supplies. We tried to keep the flies at bay by setting up the mosquito mesh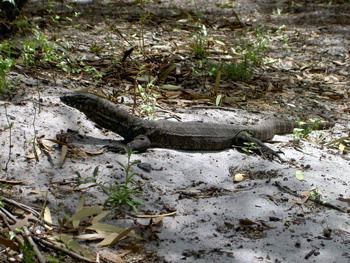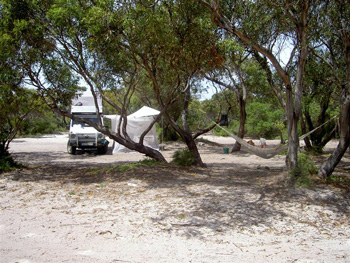 but this did not deter a large goanna from climbing up the mesh seeking entry into our quarters. After our supplies had vanished and drinking water became scarce, we left Cape Arid and travelled along the south-western corner of Western Australia, past the rocky outcrops of Esperance,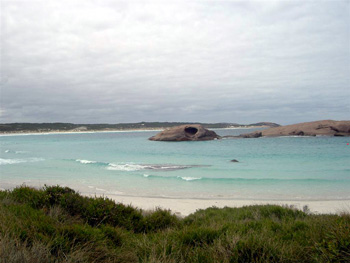 and eventually along soft sand track, which meant reducing the tire pressure to be able to manage the track.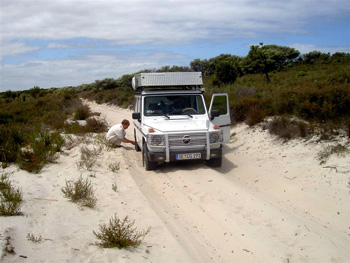 The track eventually led into the picturesque bay of Fanny Cove, which we had all to ourselves.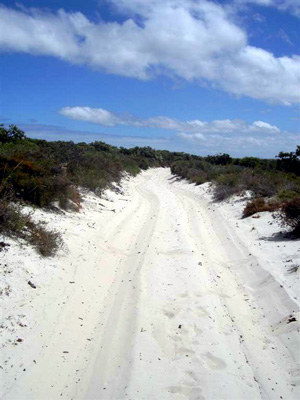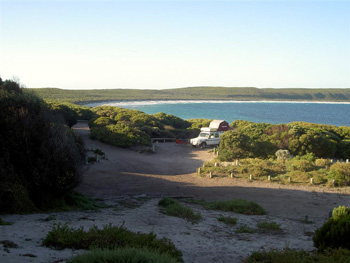 On the other end, it meant pumping up the tires again before heading out to Hammersley Inlet ,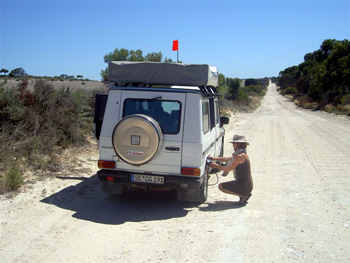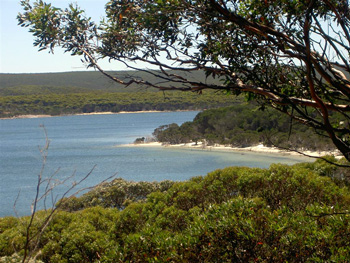 and further inland to the Stirling Ranges.

The Stirling Ranges seemed to us a bit of a let-down after the spectacular Flinders Ranges in South Australia. The slight disappointment was readily compensated by chancing upon a Dutch couple, who have built not only stone and brick European cottages on their land but also an original Dutch windmill "The Lily", constructed from pieces brought over from Europe and old beams and bricks from abandoned homesteads in Western Australia.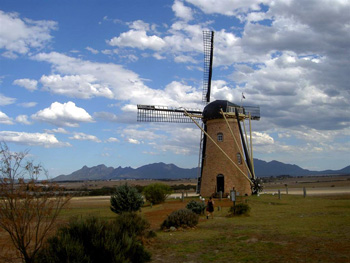 We rented one of their cottages for a couple days, and one which was particularly tailored to Martin's idea of a dream dwelling since the kitchen door opened into a huge workshop complete with car lift, tools and lighting. Here our good old GD 300 received a bit of treatment and face lift: we changed the brake fluid, greased the axles and Martin checked the engine and car without exposure to ants, flies, dust and high winds.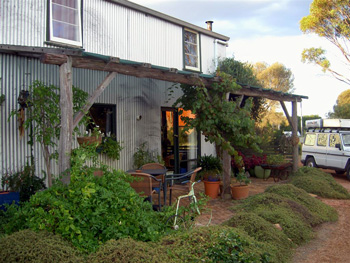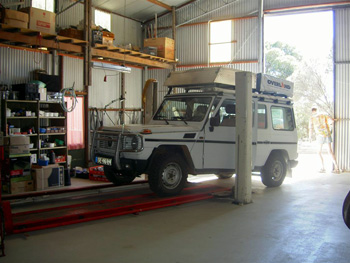 We replenished our water supplies, stocked up on food, and enjoyed the hot showers before heading north to Wave Rock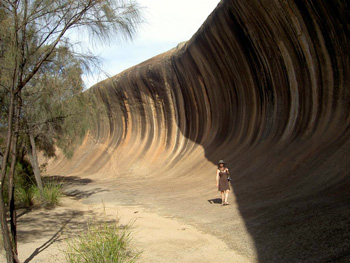 and further on to York, the first inland town that was established in Western Australia, featuring an original Shell Service Station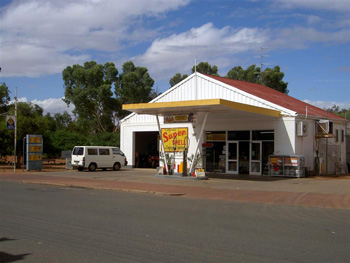 and a swinging bridge over a wide river with actual water running in it.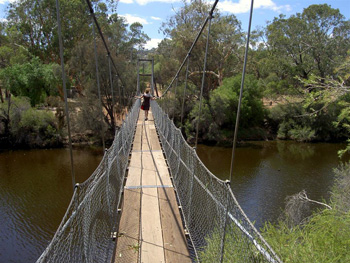 This may seem like a redundant statement - that a river should carry water - but in the Australia we have encountered most of the rivers and creeks were dried up and water is chronically short.

We then made a bee-line for the coast, reaching the Indian Ocean after several days on the road, enduring the ubiquitous Australian flies and one astonishingly horrid camp ground in Lancelin. From here we paid a visit to the oldest organisms to appear on earth some 3500 Million years ago: the Stromatolites, without whom life on earth as we know it would never have been possible.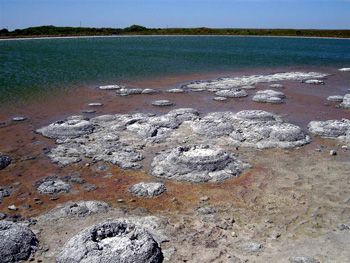 We leave you with the images of Pinnacle Desert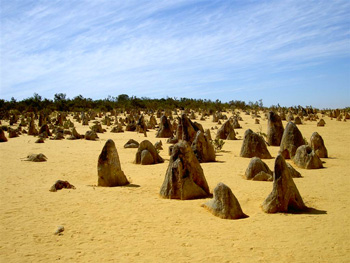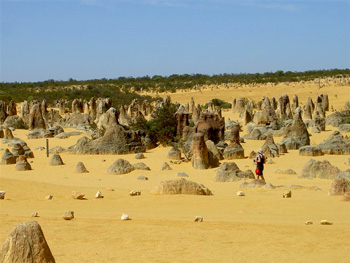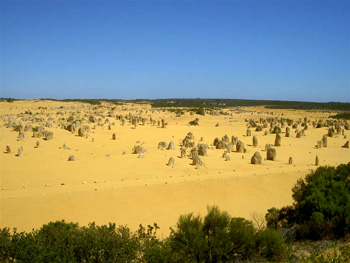 which we visited before heading inland again for a few days among flies, high winds, temperatures around 45° Celsius, bees, ants and other discomforts of life all apparently designed to test a relationship to its bones. We suffered through it with lots of "bloody hell"-shouts, a good portion of humour and the occasional warm beer from the ice-less Eski Box.

On our way up north, wind and sand were constant companions. In fact, the desert dunes are slowly encroaching the bitumen roads.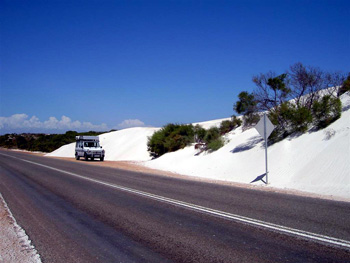 And the flies are always with us ......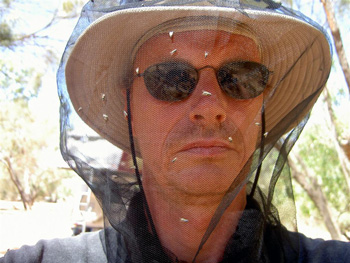 Until we meet again, a cheery "No Worries" to all of you. We are fine, doing well, and are getting ready for the adventures ahead.


Next Route: