THE ROUTE
We are spending roughly 12 months preparing for this trip and developing a detailed route. (see Map) At the outset, a major concern in planning our route had been the timing of the wet season in the tropical north and parts of Queensland and Western Australia, as well as the high summer temperatures in the desert and interior regions. We wanted to avoid as much as possible climate conditions which could make some tracks impassable during the rainy season; tracks, such as the Gibb River Road through the Kimberleys, and the Canning Stock Route further south. Both of these are part of our planned travel itinerary.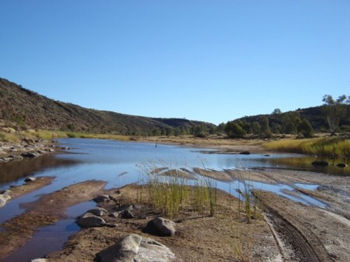 source: internet



Our hope is to encounter a range of landscapes along the way: changing scenery of coastlines, fertile valleys and mountain ranges alternating with isolated desert areas, and the lush and fertile lands of the tropical north.

Our rough estimate of the mileage for this trip is 18.000km, of which approximately 4000km will be outback and desert mileage. We want to see the Australia off the beaten track and to reach destinations - coastal and inland - which still capture "The Great Australian Loneliness".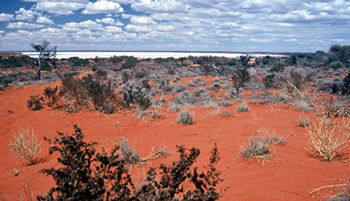 source: internet



These are our aspirations prior to embarking on our journey. The Map currently shows our planned travel itinerary (dotted line). From January 2009 onwards, we will replace the dotted line with a solid line, indicating the actual route taken on the trip. By clicking on the solid line you can track our actual mileage and the route we are taking in 2009, read about our experiences and glance at pictures from our trip.


Sydney to Brisbane January 5 through 14 2009
Cheers to everyone from Australia! We arrived in Sydney early morning on January 5th, almost simultaneously with the arrival of our car arrived in the Port of Brisbane 1000km north from Sydney. Since debarking the plane in Australia we are enjoying hot summer temperatures around 30 degrees Celsius, blue skies and cool nights.

We spent 2 days in Sydney. Lodging in on of the oldest hotels in town, the Lord Nelson Brewery and Hotel,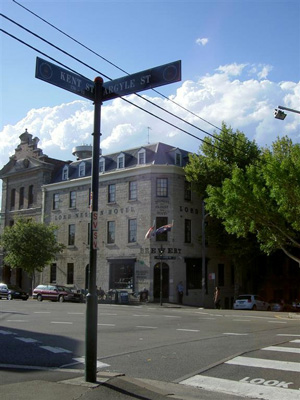 situated in a quiet but centrally located neighbourhood of the city.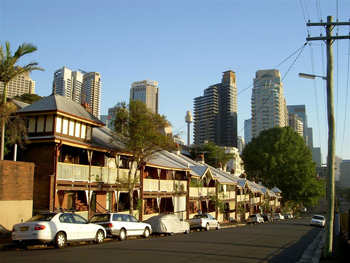 We were able to finalize most of our bank related paperwork here (activate our Australian bank account, ordering ATM Bank Cards etc), and devoted the remaining time to tourist activities, such as visiting the Sydney Opera House,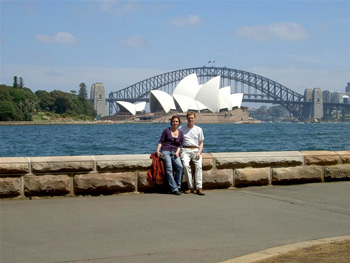 the Botanic gardens with trees covered in flying foxes,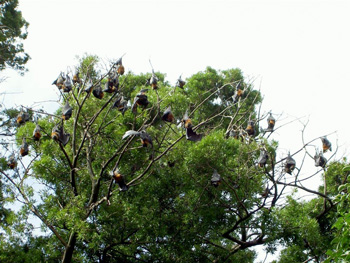 lawns frequented by the Red Ibis looking for breadcrumbs,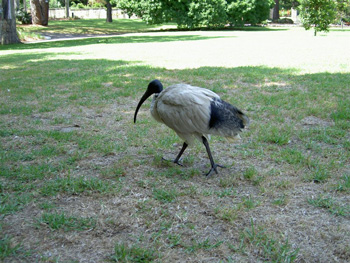 and the occasional Aboriginal making money as a tourist attraction complete with synthesizer boosted didgeridoo and body paint.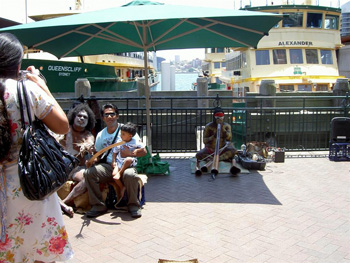 On Wednesday January 7th we left Sydney on the Harbour Bridge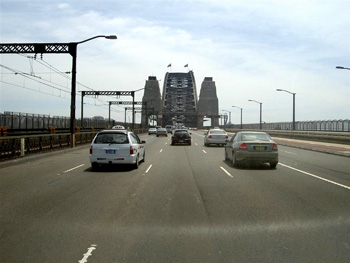 in our hired 'shitbox' (a strong smelling hired camper) with provocative messages written on the back.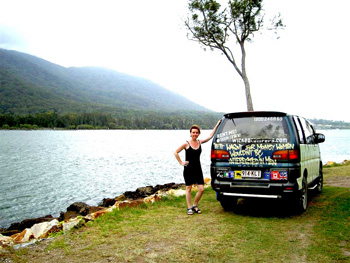 It caused some raised eyebrows in some of the smaller places we passed through on our way to Brisbane, when little children read the message on our camper aloud to their parents, asking them to explain what it meant ('If it wasn't for money, women would not be interested in men'). One little boy inquiring from his Dad as to the overall meaning of this message and his father looking at us most disapprovingly.

We drove along the Pacific Highway for most of the time, along deserted beaches,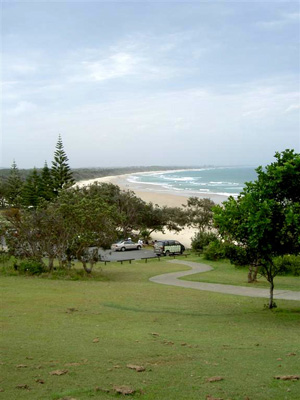 camping in tiny camping parks with modest but clean facilities and LOTS of wildlife hopping about.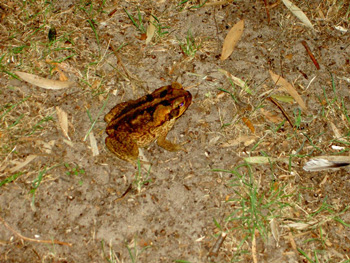 Indeed, besides kangaroos bouncing past us next to our van, marsupials and Common Brushtail Possums climbed down their trees at nightfall and scurried about the campsite. The roads are dotted with signs cautioning drivers to look out for all kinds of critters crossing the street,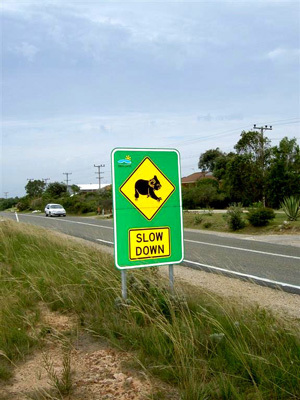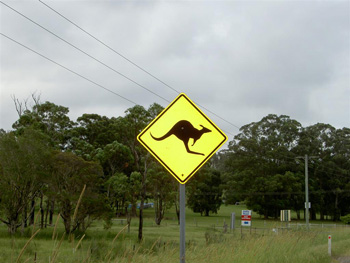 but in the camp they appeared announced (but were always welcomed by us). One detour led us inland, north of Grafton, to visit the rocky outcrops near the small town of Nimbin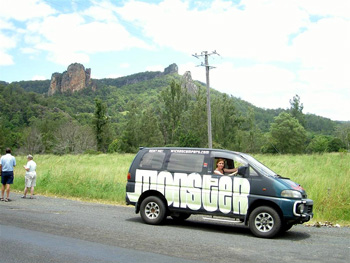 and particularly Nimbin itself which features the oldest established Hippie community in Australia - still alive and well and offering any and all ingredients needed for true Flower-Power Lifestyle.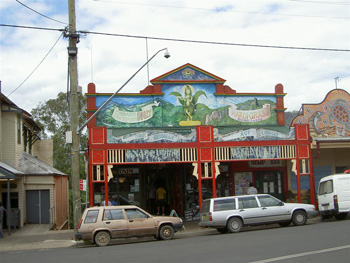 After this, we headed straight to Brisbane, calling into the centrally located Newmarket Caravan Park in town, and waited for Monday to receive an update regarding the customs and quarantine proceedings related to our car. The container had arrived in Brisbane on Thursday the week before and was being held under quarantine on Fisherman Island, awaiting our arrival.

The release of the container and the car was supposed to be handled by the local DHL office in Brisbane Airport, but it turned out that we in fact had to do all the work ourselves. This appeared initially quite daunting, since we were told that the completion of all the customs and quarantine paperwork take up to 10 days! By some incredible luck and a successful division of labour, we managed to do this on our own within 2 days!! Gabi handled the customs paperwork and had the Carnet de Passage stamped and authorized as well as the customs declaration for our personal effects cleared in the Customs Office downtown within 2 hours on Monday January 12. We then received an appointment for Tuesday morning through DHL with Patrick Logistics who were in charge of unpacking out container.

We arrived at their office in the Port of Brisbane, received Visitors Passes and red safety vests to enter the container area. Our container was already opened and the car had arrived in the same condition in which it had left Hamburg, even the airbags at the side and top were still inflated!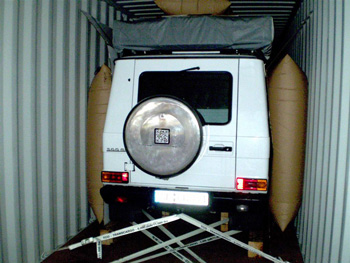 The car has no damage and the engine started right away. Martin handled the quarantine matters. After a kind fork-lift driver managed to secure a car jack to get our Mercedes off the wooden blocks on which the axles rested during shipment, Martin drove the car out of the container. The kind man turned out to be our saving grace for the day.
Initially, we had been told by his supervisor that there would be absolutely no way to get the car through quarantine in one day. It would take at least 5-7 days before our car could be inspected; and this came as a shock to us since we had not planned to stay in Brisbane that long.

However, after Martin drove the car out of the container we were left to our own devices for a while inside the quarantine hall. Martin started talking to the fork lift driver to inquire about the quarantine procedure, and we just decided to hang around for a while. After 10 minutes, the fork-lift driver had secured a quarantine officer who agreed to inspect our vehicle right away, and we began to take everything out of the car, popping up our roof top tent inside the quarantine building, opening our gear boxes, folding chairs, and duffle bags, -- and received within 1 hour a clean bill from quarantine!

It payed off now, that we spent good time in Hamburg to clean the car and our equipment prior to shipment and thus made a good impression here in Australia, which has very strict quarantine regulations. Thus, we drove our car out of Brisbane Port and into Australia. The car is in great condition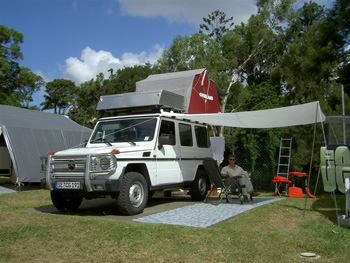 but needed a good cleaning inside because it had developed mould while sitting in the container. Otherwise, all is perfect - except that we realized we brought far too much stuff!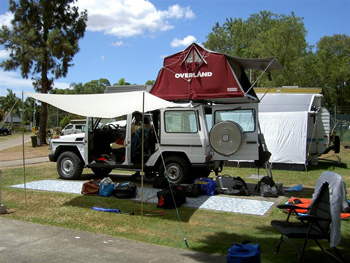 We spent one whole day repacking and preparing several bags to be left in Brisbane in short-term storage until June. Today we are finalizing the packing of our gear on our campsite located next to an Australian couple who have been living on this Caravan Park for over 15 years!

Tomorrow we are heading north to our first 4WD adventure in Australia. We are leaving for Fraser Island, the largest sand island in the world. We were lucky in Brisbane to benefit from the detailed advice from Marc Tabone (a Shell colleague of Martin here in Brisbane) and his wife Heather who had visited Fraser Island before and provided many useful insights to us. So, after the giant fig trees in Brisbane,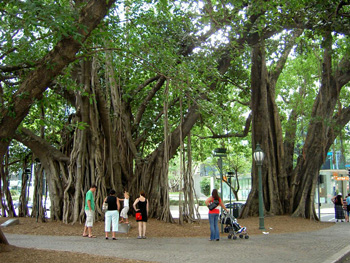 we are bracing ourselves for the giant sand dunes and crystalline lakes on Fraser Island. After Fraser Island we will be journeying inland into the Outback for our first desert drive.


Brisbane to Thargomindah: January 15 to January 26 2009
Current Location: South 27° 59' 25" East 143° 59' 09'"
Current Temperature: 45° Celsius

Greetings to all of you from the Outback at the edge of the red desert!
On this latest segment of our trip we will take you along our journey west to the interior of the continent, through diverse landscapes and micro-climates from the coastal hinterlands of Queensland to the red flatlands of the outback.

We left Brisbane lighter and leaner as far as luggage was concerned after renting a temporary storage space to leave winter garments and other superfluous stuff behind. Due to weather conditions in the tropical north and overcrowding on the coast due to school holidays, we decided to postpone our trip to Fraser Island (until early June) and to head inland to Lake Somerset, where we put up our first bush camp site.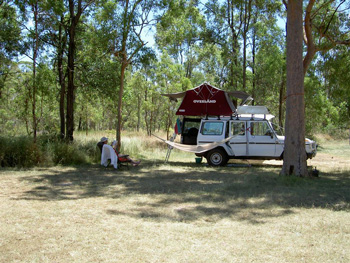 The weather was sunny and mild, the nights cool and airy, giving us a chance to adjust gradually to the more extreme conditions awaiting us in the interior. The coastal hinterlands are primarily cattle grazing country mixed in with some light agriculture. Travelling along small country roads over gently rolling hills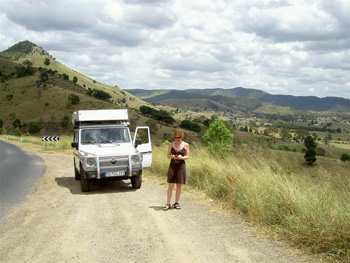 we picked up refreshments and local produce in roadside General Stores.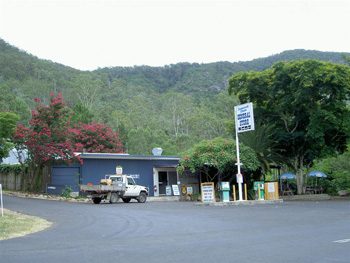 Not all roads or grazing lands are fenced in, and thus it is not unusual to meet the occasional crowd of cattle on the road causing traffic in all directions to come to a standstill.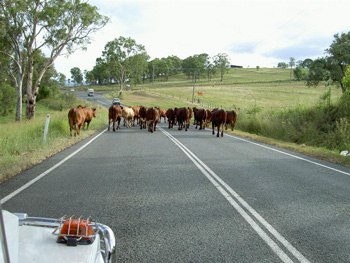 The gently rolling Darling Downs are a fertile agricultural area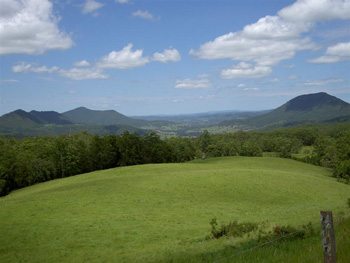 but also home to the extensive Eastern Rainforest Reserve of Australia. We discovered these Nature Parks by sheer luck after miscalculating the enormous distances and driving times and finding ourselves without a camp spot shortly before nightfall somewhere near Kyogle, south west of Brisbane. By chance we came across the weathered sign of an old campground still maintained by a friendly elderly couple who offered us a spot right in their frontyard and shared with us their "yarns"(Australian for stories and tales) about a family of platypus living in a pool on their land and in some of the fresh water ponds dotting the hills of the surrounding Darling Downs.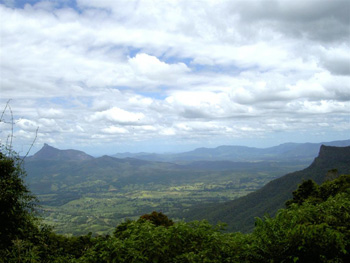 The old couples' homestead nestled right at the edge of a major rainforest park and we made a side-trip the next day to drive up to the Borders Ranges National Park, (South 28° 2' 16", East 153° 3' 51"), a world heritage site.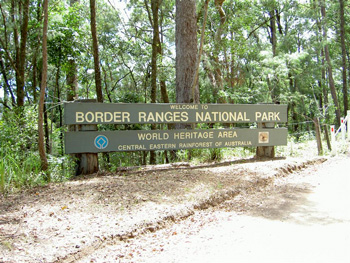 This unplanned detour took us to the edge of a lost world containing a wilderness which is part of the largest expanse of subtropical rainforest left in Australia. It is a wilderness which during early European contact was considered savage and an area which had to be conquered and tamed. In ancient times, such rainforest covered much of the super-continent Gondwana and it remains the oldest type of vegetation in Australia.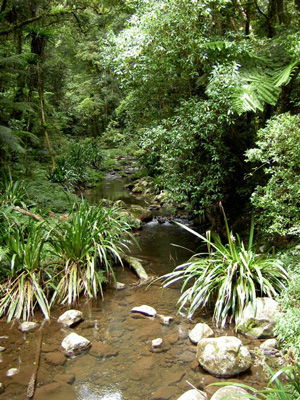 Few places on earth contain so many plants and animals whose ancestors can be traced back to the fossil record and today remain relatively unchanged. A prime example of this is the Antarctic beech which continues to grow in the National Park. It arrived in Australia 80 Million years ago and survived the last ice-age. Another are the giant ferns which are the size of trees.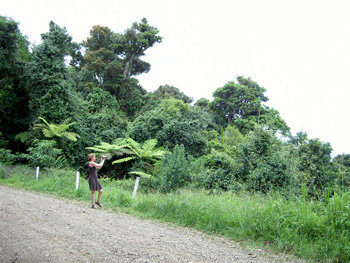 Today, rainforest covers only 0.3% of Australia but it contains nearly half of all Australian plant families and - of the country's mammal and bird species, many of them threatened or rare species. We discovered a spider the size of a small plate resting on a river boulder, and chatty flocks of red parrots darting through the trees. In this post-modern age the rainforest has shrunk to a fraction of its size, but it continues to be of prime significance to the Aboriginal people of Australia. The Aboriginals of this area have a strong sense of their cultural identity and their Dreamtime mythology relates to natural features in the environment, giving them strong ties to the land. Rivers, waterfalls, and mountain peaks are recognized as Aboriginal mythological sites with detailed stories belonging to them. In some of these Dreamtime stories, wallabies and kangaroos feature prominently.

Our contact with the kangaroos was of a less spiritual but still magical nature. We found them hopping about on the campground at Lake Glenlyon (South 28° 25' 41" East 152° 57' 28"). They were curious but cautious animals, bopping closer to our camp site when we started to prepare our supper.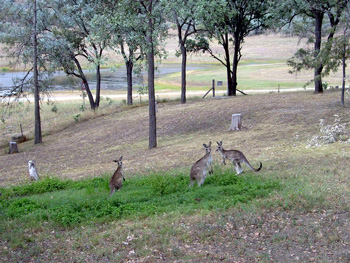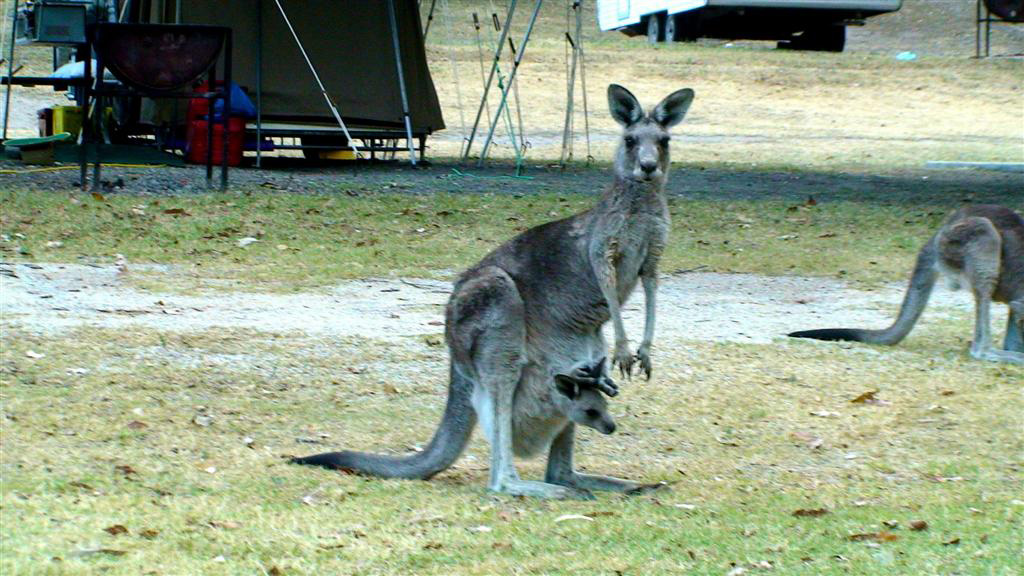 At Lake Glenlyon we met our first bout with rain, forcing us to pack up camp in the morning under wet conditions, and to head west along sometimes boggy gravel roads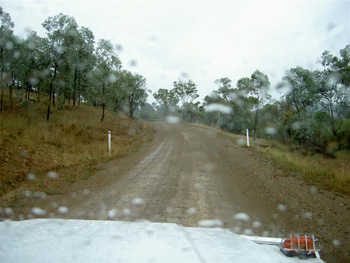 and across minor floodways.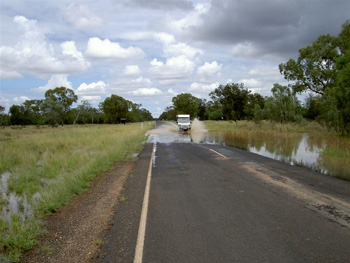 Here we also had our intital encounter with the legendary Australian roadtrains. These are trucks of intimidating size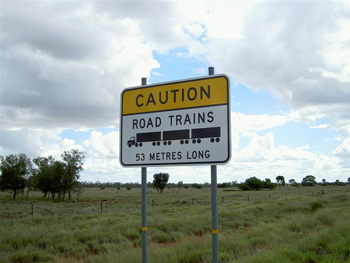 which carry life stocks, fuel and supplies from one side of the continent to the other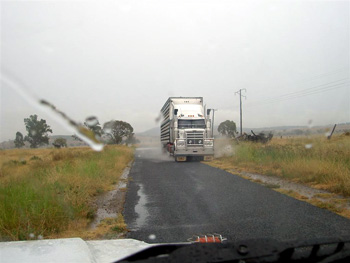 - and they always have right of way!

As we were heading west, we began stocking up on diesel since the price would be increasing as we reach more remote areas. In heavy rain, in a tiny town called Texas, we had to retrieve our petrol containers from the roof top gear box, fill them up and store them again 'upstairs'.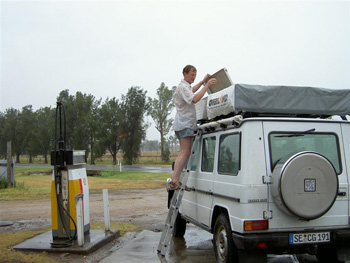 Cars and travellers became now few and far in between and for long stretches we found ourselves alone on the road. Occasionally, though, we met unexpected excitement and action. For example, when a few hundred meters ahead of us the driver of a vehicle pulling a heavy trailer with a wrecked car and iron bars on it, lost control over his vehicle and started to swivel and sway and twist around, smashing ultimately in the ditch in front of us . Everybody was very lucky: the driver and his friend and dog for not suffering any injuries, and we were lucky that his car did not smash into ours! Being the good and well-equipped tourists, we offered to pull them out of the ditch with our car.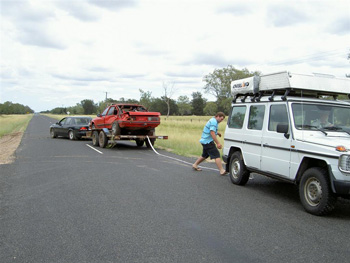 A couple of hundred kilometers due west, we left the rolling hills behind us and entered the flat countryside of the Western Downs with its timbered creeks and beautiful waterways. The towns were now becoming smaller and the distances between them started to increase. Up to here, a typical town had a main business street with coffee shops and stores and a population of several thousands.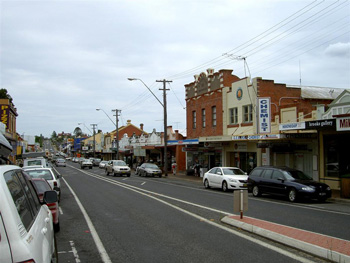 Later on, we drove through and stayed in towns with a population between 186 (Thargomindah our current base camp) and 80 (in Eulo; yes, it is a population of 80 there. But they have a population of lizards numbering 1500 and hold each year the traditional Eulo Lizard Races!). The areas are remote, but they do have places for the well-earned ice-cold beer, including the oldest continuously licensed pub in Australia "The Nindigully Pub".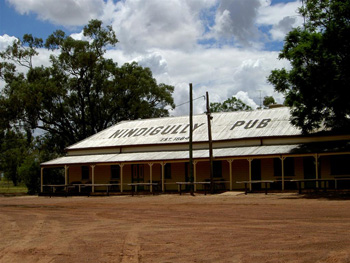 Now we had entered the outback with its straight, long tracks and red earth.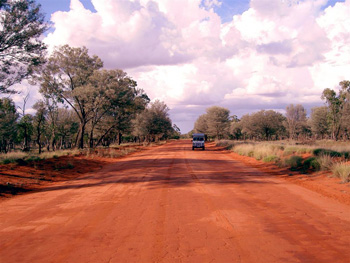 The temperatures rise during day time to 45° Celsius and drop into the 30s at night. The wind is hot and stinging, and we hardly found any shade. We decided to drive as much as possible during the midday heat, even though our car does not have air condition and temperatures inside the car rose to 38° while driving. But driving at least provided some refuge from the millions of flies in the air and the armies of ants on the ground. In Bollon, a tiny place of 150 people, the ants and flies proved so annoying that eating outdoors turned into an acrobatic act: in order to avoid ants covering your body from the feet up, you had to keep moving/running about. At the same time, swarms of flies were covering your face, eyes, ears, and mouth, and you have to constantly flag your arms about to keep them away from your face and food. In this manner we ran around like a team of spastic maniacs harvesting the occasional bite or two from our sandwich. Eventually we learned the value the local dress-code and are now wandering about looking like this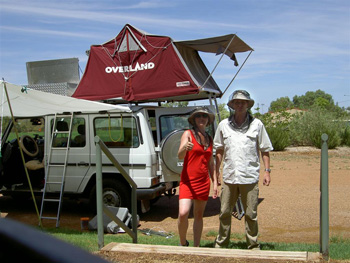 - well, nothing beats a fly-proof face out here in the heat.

The locals in the outback are a friendly lot and they always smile, even though most of the men have no teeth left in their mouth (could be the market niche here for a travelling dentist of sorts). They helped us with information of road conditions, pointing us to camp sites in the area, and telling us all about the fish in their rivers and the history of brand signs for their cattle and horses.

For us, the extreme heat and the deteriorating road conditions meant to pace ourselves carefully and to prepare the next stage meticulously. We have thus taken 3 days off the road at Thargomindah to get ready for the red desert lying ahead of us. Due to heavy monsoon rains in the north, our intended route along the Birdsville track had to be dropped. Because of major flooding the whole region north of us along the Birdsville track is being closed to all vehicles (the change in route is indicated on the MAP). As soon as the road between Thargomindah and Innamincka has been opened again for 4WD vehicles, we will head west and then leave Innamincka on the Old Strzelecki Track to the Flinders Range. There is still some flooding reported along the way but the road is open for 4WD (crossing the creeks and floodways with caution). In Thargomindah we are stocking up on fuel, drinking water (about 5 Liters per person/day in this heat), and food. From here on, we will no longer be able to find shops selling party ice for our cooler, therefore we are dropping bread, butter, cheese and fresh vegetables from our diet and switching to muesli sprinkled with Nesquik and drenched in luke-warm water for our diet until we reach civilization again. In between the meals, we will be feasting on the warm/hot drinking water and not yet melted Fishermen's Friends.

Thargomindah is the last stop to purchase supplies and fuel for reasonable prices. In the outback, diesel can go up to 14 AUS $ per liter! Currently we are paying 1.45$ per liter in Thargomindah at a fake Shell Station selling diesel not supplied by Shell - a fact not evident to the ordinary customer and revealed only to Martin by questioning the owner of the roadhouse gas station.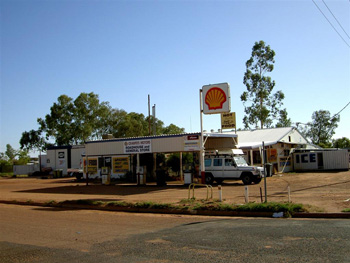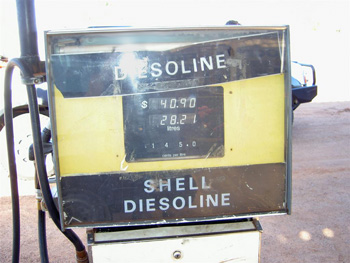 Last not least, a short summary of some of the Trip so far:
Mileage driven since Sydney: 2835 KM
Days driven: 11
Days rested: 10
Temperature Range during daytime: 24° to 45°
Next Route: