ABOUT US AND THE TRIP
Our crew consists of two people who share a lifelong enthusiasm for travel and adventure, and an interest in the landscapes and cultures on our planet. Martin is a trained car mechanic and engineer. Gabi is a trained social anthropologist who has conducted many years of research in the highlands of Papua New Guinea, the urban jungles of the USA, and southern Puerto Rico.

Together we have traveled through many parts of Europe and Africa. Initially, we journeyed in a Mercedes 190 C,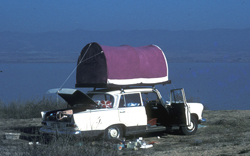 and later through the Sahara and West Africa with a 911 Mercedes truck.




The Australia trip comes for us after a long intermission devoted to work, career, and family life. For our trip through Australia, we are shipping our Mercedes 300GD to Brisbane in a high cube container. This agile and robust 4WD vehicle was built in 1990. We outfitted it with a roof-top tent, gear box on roof, and camping equipment in the cabin.